News
HISTORIC EUROPEAN POINT FOR HC ALKALOID!
-->

LOGROÑO LA RIOJA – HC ALKALOID 29-29 (18-15)

La Rioja Sports Hall in Logroño, Spain. Referees: Ivars Cernavskis and Edmunds Bogdanovs from Latvia. Delegate: Marco Brandi from Italy

LOGROÑO LA RIOJA: Soler 2, Preciado 7, Fernández 4, Ponciano, Zaja 3, Tuá 2, Uríos 3, Ortíz, Palasics, D. Cadarso 4, Palomino 3, E. Cadarso 1, Abdelmotaleb

Seven-meter throws: 2/2 Suspensions: 4 min.

ALKALOID: Romero, Trajkoski, Djonov 6, Markoski 2 Mladenovikj, Serafimov 3, Stojchevikj, Stojkovic 2, M. Mitev 2, Gjorgiev, Velkovski 4, Omeragikj, Bingo 7, Petkovski 3, D. Mitev, Savrevski

Seven-meter throws: 1/1 Suspensions: 6 min.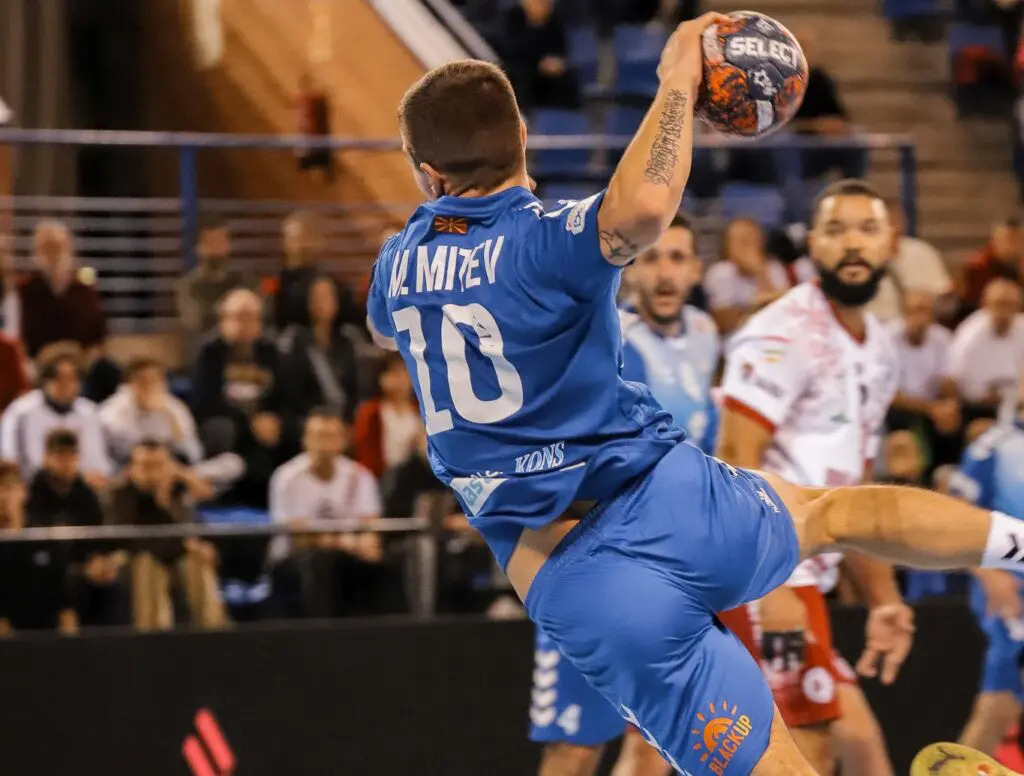 HC Alkaloid commenced the match with less anxiety, despite some missed shots and technical errors. The home team initially maintained control and gained a 4-1 lead. Arnaud Bingo was in a goal-scoring mood and until the first crisis passed he kept the team in the game. Subsequently, Alkaloid overcame the pressure, with other players contributing to tie the game at 7-7 within the first 14 minutes of play.
However, the home team maintained a high conversion rate, allowing them to maintain their lead, while Alkaloid consistently remained close, just a step behind. But whenever we were in a position to equalize, technical errors or the opposing goalkeeper's strong defense thwarted our efforts. As a result, La Rioja retained their lead until the end of the first half. With the final goal, they managed to reestablish a three-goal lead, setting the score at 18-15.
At the start of the second half, Blagojche Trajkovski found his form between the posts. His strong performance allowed HC Alkaloid to go on a scoring spree, reversing the score from a 20-16 deficit to a 20-21 lead with five goals. From that point on, the match in Spain turned into a tense, nerve-wracking battle. HC Alkaloid had several opportunities to extend their lead to a two-goal advantage, but their lack of experience proved costly, resulting in missed scoring opportunities.
La Rioja capitalized on this, taking a 27-25 lead with seven minutes remaining. However, Trajkovski once again delivered a stellar performance, making two crucial saves and, combined with Djonov's sixth goal, brought the score to a draw at 28-28. In the final play of the match, winger Petkovski scored, securing a draw and the first point in our team's history.
Post-match statements:
ARNAUD BINGO: "It is not easy for the young players in our team to compete against teams that have extensive experience and numerous appearances in European competitions. Hence, I believe this is a good result for the club. Nevertheless, I also know that we can perform much better."
IVAN DJONOV: "The draw is a favorable outcome, but we missed the opportunity to secure two points. Our focus dropped. At one point, we had a series of unsuccessful attacks. Our opponents also made errors and missed opportunities, but if we capitalized on our chances, we could have come out victorious. We are content with the draw, but we will not stop there. We will approach every upcoming match with the determination to win."